Pathology Overview: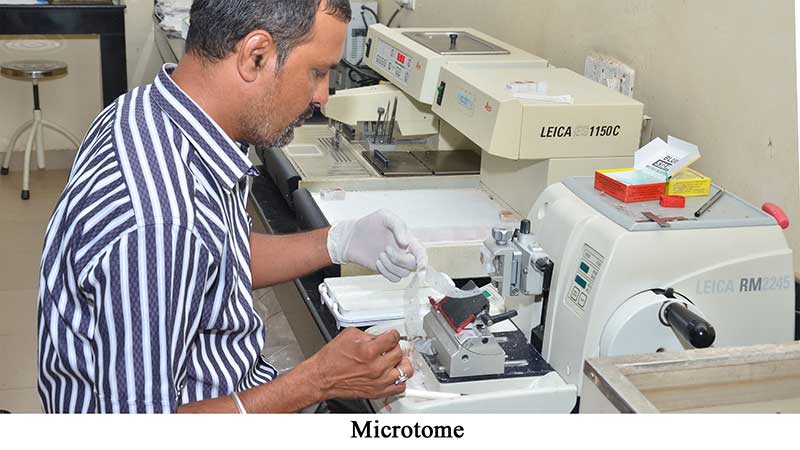 As is your pathology, so is your practice

William Osler
Diagnostic centre, situated in the hospital, is rendering its service, through scientifically designed techniques at the Clinical Pathology, Hematology, Histopathology, Cytology and Immunohis to chemistry divisions. The department has a fully functional licensed blood bank with a sophisticated component separation and therapy unit, unique of its kind, in central Karnataka.
The Pathology department has two spacious, well equipped practical halls to accommodate ninety students each. The museum has around thousand specimens along with charts, displaying the details of the same and various other teaching modules. Abundance of learning material, in the form of specimens, slides, charts, books, CDs along with latest teaching aids like , high quality demonstration microscopes, digital photography fluorescent, phase contrast and polarizing microscopes, CCTV, LCD, OHP make learning easy.
Experienced, enthusiastic and inspiring qualified teaching faculty adds to the beauty of the department, in creating an interesting and friendly learning atmosphere.
Goals and Objectives
MBBS Student at the end of training in pathology will be able to:
Understand the concepts of cell injury and changes produced thereby in different issues and organs the body's capacity for healing.
Understand the normal homeostatic mechanisms, the derangement of these mechanisms and the effects on human systems.
Understand the etiopathogenesis, the pathological effects and clinico-pathological correlation of common infectious and non-infections diseases.
Understand the concept of neoplasia with reference to the etiology, gross, and microscopic features, diagnosis and prognosis in different tissues and organs of the body.
Correlate normal and altered morphology (Gross and Microscopic) of different organ systems in different diseases to the extent needed for understanding of disease processes and their clinical significance.
Have knowledge of common immunological disorders and their resultant effects on the human body. Have an understanding of the common hematological disorders and the investigations necessary to diagnose them and determine their prognosis.
Know the principles of collection, handling and dispatch of clinical samples from patients in a proper manner.
Perform and interpret in proper manner the basic clinical pathology procedures.
Understand different types of Bio-medical waste, their potential risks and their management.