General Medicine Overview: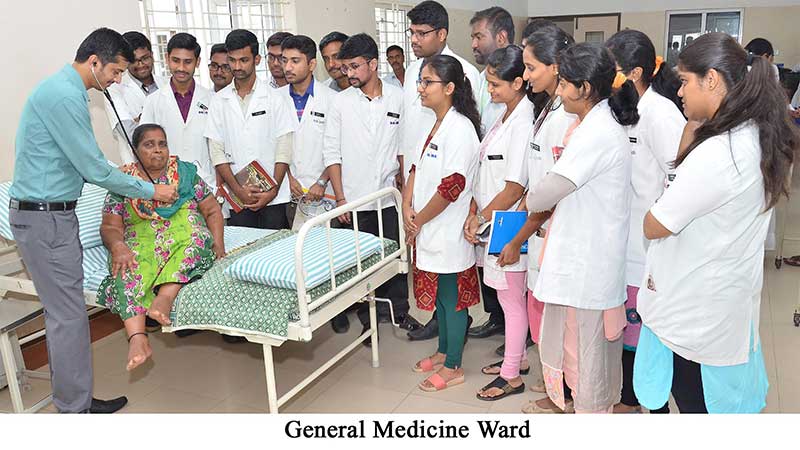 The Department is headed by an experienced specialist and assisted by a highly qualified faculty.. Medical Intensive Care Unit (MICU) and Intensive Cardiac Care Unit (ICCU) are equipped with "Cutting Edge" equipments like ventilators, defibrillators and monitors to handle any emergency.
The OPD complex with its six consultation rooms have been provided ECG and Nebulization services to cater to the medical emergencies. In addition, it has TMT room, spirometery and a clinical demonstration room having a capacity of 30-35 students.
The Department is in the process of creating super-specialty units like Cardiology, Neurology, Nephrology,Gastroenterology and Endocrinology.
Medicine Dept of SSIMS&RC under able guidance of Dr. Sreepada Bhat, HOD , Dept of Medicine SSIMS&RC. Along with Dept of Medicine JJMMC Davangere and API Davangere chapter conducted CME on infectous Diseases on 4th Oct 2008.
On this occasion, curren problems in infectious diseases in and around Davangere. Diagnosis and management of malaria current range and future perspective, HIV & Tuberculosis and MDR & HDR Tuberculosis, G.I. Infections , Dengue fever & Management in small hospitals, Leptospirosis- clinical approach, Recent trends in the management of HIV infection . The programme was attended by faculty members of SSIMS&RC medicine dept JJMMC, practitioners in around Davangere, and made the programme a successful one.
The Dept of medicine has staff position of 3 Professors, 3 Associate Professor and 10 Asst. Prof , 7 Sr. Residents & 21 Jr. Residents.
There are Six Medical units who run the out patient on rotation daily.
Dr. B.Sreenivasa who is trained in Cardiology will run one day special clinic on Monday and Dr. Salauddin.Q trained in Nephrology will run one day special clinic on one day ( Tuesday ). We have TMT machine Echo. Cath lab, Dialysis centre. We have an OPD with 5 insides, and ECG room and Nebulization room, & OPD seminar hall, and dept which accomadates , HOD room & other Professor's chamber & Assoc. /Asst. Prof chamber & office. There is a separate hall for Library.
The teaching staff will regularly take 3 classes a week in this semester and two tutorials and one integrated coaching we regularly meet on Saturday and discuss about interesting cases and exchange the thoughts.
We had one CME and planning for one more shortly.
A regular scheduled discussion is held every day of the week which includes seminars, Journal Club, Case presentation, Histopathological slide discussion.
Interdepartmental case presentations are conducted where a topic is discussed by various other departments to know every aspect of the topic.
Continued medical education CME are attended by staff and postgraduates students to broaden their knowledge and learn new aspects of the subject